Q: Where is your foundry and what is the nearest logistic port/hub to site?
A: Our foundry is located in Hezhou,Guangxi, China, 400kms away from Huangpu port, Guangzhou or 450kms away from Yantian, Shenzhen.
Q: When was the company formed?
A: Our Company was founded in 1985.
Q: What's the company's property?
A: MnSteels, LLC is a private company.
Q: What is your employee distribution?
A: We employ about 120 people. 20 in administration, 20 in engineering and QA, 80 in production.
Q: What are your main products?
A: Our main products are manganese crusher plates including cone crusher liners and jaw crusher liners. As well as other manganese steel parts, we also manufacture high chrome cast iron and other alloys.
Q: The size of your premises?
A: Our foundry covers an area of over 40,000 square meters with two workshops of 7,000 square meters.
Q: Does the company have the export license?
A: Yes.
Q: Please describe design and mfg. standard used (GB, ISO, etc.)
A: We manufacture under the guidance of GB/T 5680-2010, as well as ISO, DIN, ASTM standards.
Q: What management system do you use?
A: We are certified for ISO9001:2008
Q: Are you able to response customers quickly?
A: Yes, all stuff are requested to response customer communications within 24 hours.
Q: Do you have ERP or equivalent system used in your company?
A: No, but we have our own Process Management System in place.
Q: What is the typical inventory levels held in factory for customers?
A: We keep about 800 tons of products for our customers in stock at any time.
Q: What is the designed capacity of your foundry?
A: We are able to produce 8,000 tons of castings a year at full capacity.
Q: At What Capacity Level are you currently operating?
A: We are running at 5,000-6,000 tons a year at the moment.
Q: What's the lead time of order to EXW for the 1st shipment?
A: For new items, the lead time is 45 days. For existing products, first shipment can be completed in 30 days.
Q: Do you have an independent department for R&D?
A: No, our R&D team works closely with the manufacture and QA.
Q: Do you have an assistance software or test facilities for new products designing and testing?
A: We use CAE program to run simulations. We have all necessary equipment & tools to perform tests needed.
Q: How many people fulltime work for QA department?
A: We have a QA team of 8 people working on site. In addition, a small independent QA team with 4 people works as third party QA, their job is to exam the products before they are dispatched.
Q: How long are samples of each lots stored?
A: We keep our samples of 3 years.
Q: What's the frequency of maintenance and regulation for test equipment?
A: Government policies require us to have our equipment tested once a year. Our own policy requires all to be tested twice a year, and some equipments with quarterly calibration.
Q: What types of furnace do you use and what are their capacities?
A: We use 2 5ton induction furnaces, maximum melt is 8 tons. We are expecting to increase the melt capacity to 15tons by 2015.
Q: What is your melting temperature?
A: 1480 degrees centigrade
Q: What is your pouring temperature?
A: We use bottom pour ladle, the temperature is 1420 degrees centigrade when pouring the first product. Pouring temperature for the rest products from the same ladle is lower than 1420 degrees centigrade.
Q: At what temperature is the casting when it enters the heat treatment oven?
A:
Room temperature
– All castings go through a cooling phase which takes from 48 hours to 120 hours depends on the thickness of the castings. For example, our C200 plates are about 300mm thick, they have to cool down for at least 100 hours.
– Each casting has a process sheet which lists the related requirements, including cooling time.
Q: What is the temperature of the heat treatment oven when the casting is put in?
A: Room temperature
Q: What is the largest casting you can pour?
A: The largest finished casting that we can produce is 6,000 KGs (13,000 lbs).
Q: What is the largest casting you can tool?
A: We have two 4 meter vertical lathes which can machine castings up to 4 meters in diameter. For jaw crusher wear parts, we can handle up to 4 x 2.5 m (13 x 8 ft).
Q: What is your heat treatment schedule?
A: Please see chart below.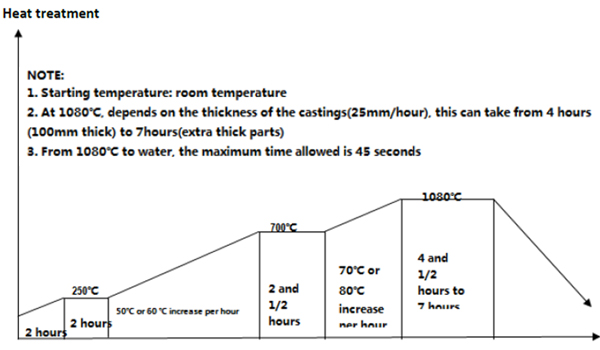 Q: How do you repair casting flaws (cracks)?
A: Please see the chart below.